Christian Movement set for ACF Convention, calls for prayers against wickedness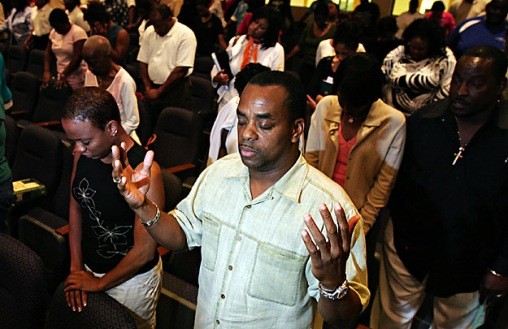 "We appeal that no stone should be left unturned to ensure that we bring a permanent solution to the problems of insecurity and all forms of wickedness confronting this nation and the economic hardship that Nigerians are facing today."
By Eagle Eye News24
A Christian Movement, the Christian Foundation International Ministry (CFIM), has called for intensive prayers by believers against insecurity,poverty and all forms of wickedness in Nigeria.
The group made the appeal in Jos,the Plateau State Capital on Monday ahead of its 2022 Annual Contending for the Faith Convention between 14 to18 December in Jos, with the theme, titled "Understanding the Times," the event would include Word Feast,Seminar,Healings/Miracles,Breakthroughs,Baptism of the Holy Ghost,Salvation and Counselling.
The Convener,Charles Ejoh, urged Christians to be prayerful and watchful as the Nation march towards the 2023 General Election in Nigeria,he also chided the federal government for its inability in tackling insecurity. He tasked the federal government to do everything possible to end the menace.
"We are urging Believers to all stand in the gap as we wage war in prayers against insecurity,poverty and all forms of wickedness in the land.
We also want to use this opportunity to task the federal government to step up its fight to end insecurity and work to bring socio-economic stability in the land.
"We, however, appeal that no stone should be left unturned to ensure that we bring a permanent solution to the problems of insecurity confronting this nation and the economic hardship that Nigerians are facing today," he said.
On the 2023 general elections, the Christian Movement urged Nigerians to vote good leaders into offices of leadership and to shun vote inducement in order not to mortgage their future.
The Annual Contending for the Faith Convention begins on Wednesday 14th-18th December,2022 by 3.pm local time in Jos,Plateau State,North-Central,Nigeria.
It is an Annual Event aimed at Re-Awakening believers on the challenges confronting the Christian faith, to arise and contend for the faith as posited by Biblical Jude.
The programme is organized by The Christian Foundation International Ministry,a global revival non-denominational restoration ministry that is geared towards restoring Christians to the original Apostolic Doctrines and prepare the remnant of God for the Rapture(The Second Coming of our Lord Jesus Christ).