2023 Polls:Senate bows to pressure, adopts electronic transmission of election results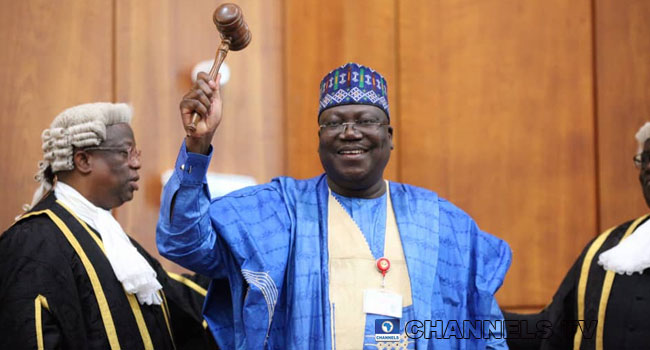 By Our Editor
Nigerian Senate on Tuesday bowed to public pressure and adopted the stance of the Independent Electoral Commission (INEC) to transmit election results electronically.
The Senate's adoption of electronic transmission of election results came after months of outrage and outright rejection that followed the passage of the 2021 Amended Electoral act earlier in July by Nigerians.
Consequently, the Senate has now given INEC full powers to transmit election results electronically as voting under the bill shall now be in accordance with the procedure determined by the commission.
The senators had earlier denied INEC the power to transmit results of elections electronically but rather empowered the Nigerian Communications Commission (NCC) and the National Assembly to determine the use of electronic transmission in an election.
However, the lower chamber was more circumspect in dealing with clause 52(3) as they passed the 2021 electoral act amendment leaving Electronics Transmission of results in the hands of INEC.
Hence, the Senate President instituted a conference committee that met and harmonised the reports adopting the reports of the House of Representatives on electronic transmission.
The senators on Tuesday, during the consideration of what they referred to as recommittal of amended clauses of a Bill for an act to repeal the electoral bill 2021, No. 6, 2021, and enact the electoral act 2021, adopted the position of the lower chamber on the amendments.
On the nomination of candidates by political parties, the Senate also adopted the resolution of the lower chamber which recommended direct primary.
The Senate, however, left it opened for political parties to determine whether to use direct or indirect primary when it passed the electoral act amendment on clause 87 had.
The Senate passed a new bill that amended some clauses in the Electoral bill, which included sections 52 and 87 on electronic transmission of results and nomination of candidates by political parties.
The bill is titled: "Recommittal of Amended Clauses of a Bill for an Act to repeal the Electoral Bill, 2021 and Enact the Electoral Act, 2021".
The controversial clause 52(3) is now amended to 52(2), which reads: "Subject to section 63 of this Bill, voting at an election and transmission of results under this Bill shall be in accordance with the procedure determined by the Commission (INEC), which may include electronic voting."