'Wonder boy'Mbappe scores twice to secure victory for PSG at Metz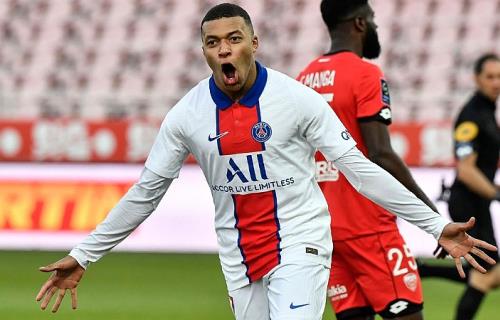 Stade Saint-Symphorien, Ligue 1 – Metz 1 (Centonze 46′) Paris Saint-Germain 3 (Mbappe 4′ 59′ Icardi 89′ pen.)
By Our Sports Desk
PSG consigned Metz to their fifth consecutive defeat with a 3-1 victory away to them in the French Ligue 1.
Kylian Mbappe opened the scoring for PSG only four minutes into the game kudos to his brilliant run beyond the defence to receive Ander Herrera's pinpoint pass from deep, which he duly dispatched in the back of the net while on the move.
Metz offered very little during the first half and showed no signs of scoring, but they hit the ground running almost straight away in the second half with an equaliser against the run of play.
Farid Boulaya waltzed inside and floated a deep ball into the box that was met by a far post diving header from Fabien Centonze.
Just over ten minutes later Mbappe struck once more to put the Parisians back in the lead. He received a simple pass from Neymar and his powerful shot took the slightest deflection off Kiki Kouyate's ankles on its way past the gloves of Alexandre Oukidja.
Substitute Mauro Icardi put the game to bed moments before full-time with an audacious panenka penalty after being brought down in the box by Dylan Bronn.
The win means PSG go top of Ligue 1 by two points ahead of Wednesday's Champions League semi-final first leg versus Man City, although second-place Lille do have a game in hand.
Les Grenats, on the other hand, plummet to tenth place and will look to end their poor form next Sunday away to Dijon.