FIFA Ranking: Nigeria's Super Eagles end 2020 in 35th position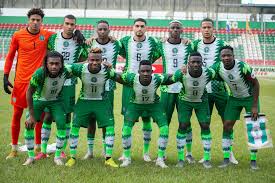 Belgium top the FIFA/Coca-Cola Ranking for the 3rd consecutive year
This year's 'most improved side' are Hungary with a 44-point gain
Burundi the biggest climbers in terms of places gained
By Our Sports Desk
The Super Eagles of Nigeria have ended year 2020 in 35th position as the world's football governing body Fifa releases the final ranking for the year.
Nigeria's Super Eagles had in November slipped to 35th position following their unproductive AFCON 2022 qualifiers. The three-time African giants were forced to back-to-back draws by the Leone Stars of Sierra Leone.
The first meeting at the Samuel Ogbemudia Stadium in Benin ended 4-4 despite Gernot Rohr's side taking a four-goal lead in the first 30 minutes of their fixture, while reverse fixture in Freetown ended goalless.
December ranking shows 22nd placed Senegal and Tunisia who occupy 26th position are the first and second African teams respectively. In 31st position, reigning AFCON champions Algeria retain their position as Africa's third best team while Morocco and Nigeria are both on 35th position in the world chart.
FIFA Ranking shows Nigeria will end the year in 35th place. Original Belgium, France and Brazil are the top three teams in the world, in that order while England and Portugal complete the top five, respectively.
Recall that Nigeria dropped three points from their 32nd place in October to 35th in the November ranking.
A total of 1082 full internationals were played in 2019, the biggest number since the FIFA/Coca-Cola World Ranking was introduced in 1993. By contrast, just 352 matches took place in 2020. Not since 1987 (323 matches), have so few fixtures taken place in a calendar year. And while 2020 has certainly had major disruptions, Belgium still managed to claim the title of FIFA/Coca-Cola World Ranking Team of the Year for the third consecutive time.
Winners of six of their eight matches in 2020, the Red Devils are not the only ones to see their position unchanged. Their three immediate pursuers – France (2nd), Brazil (3rd) and England (4th) – retain their respective rankings. The only change in the top five compared to 2019 is the appearance of Portugal in 5th place.
Next in the standings are Spain (6th) and Argentina (7th), both of which have improved two places compared to last year. Uruguay (8th) have regressed but remain in the Top 10, while Mexico and Italy again occupy 9th and 10th place.
The team with the most progress in 2020 were Hungary (40th), after a gain of 44 points and 12 places allowed them to end the year in the top 50. In eight matches played in 2020, the Magyars lost just once (to Russia), a sequence of results that enabled them to secure a berth at UEFA EURO 2020.
Other notable climbers this year were Ecuador (56th, + 41 points compared to December 2019), Malta (176th, + 32 points), Brazil (3rd, + 31 points), and Equatorial Guinea (134th, + 31 points). Burundi (138th), meanwhile, picked up 29 points and made the most significant move in terms of places, ascending 13 positions.
Just like most of 2020, December saw a low number of games. Consequently, there is little movement to report other than a one-place rise for Qatar (58th, + 1), host of the next FIFA World Cup™, following their defeat of Bangladesh (186th, – 2) in a delayed AFC qualifying fixture for Qatar 2022. Ethiopia (146th, + 1), Djibouti (184, + 1) and Dominica (184th, + 1) all advanced one place and will be hoping to build on that progress in 2021.