FOOTBALL:PSV's Madueke may play for Nigeria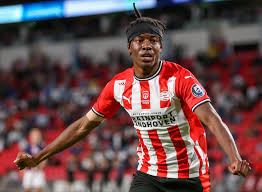 By Our Sports Desk/African Football
England-born Nigerian starlet Noni Madueke, who has been in top form for PSV Eindhoven, has refused to rule out switching his allegiance to Nigeria.
The attacking midfielder has netted four goals from three starts in the Dutch Eredivisie this term and also scored against Greek giants PAOK in the UEFA Europa League.
Still only 18, Madueke has played for England's youth national teams, but qualifies to represent Nigeria through his parents.
Madueke is reportedly being courted by the Nigeria Football Federation (NFF), who have been successful in prizing talent away from England in the past with Joe Aribo and Alex Iwobi opting to play for the African nation.
"I am only 18 so I have got to be open to everything," Madueke told The Sun.
"If I had a closed mindset I would not be where I am now so for sure I am open to both. We just have to see in the future what is best."
Madueke, who joined the Dutch giants from English side Tottenham Hotspur in 2018, says playing under PSV under-19 coach and Manchester United legend Ruud Van Nistelrooy has helped hone his finishing.
"Ruud helped me a lot last year, taking my game to the next level and now I am just trying to get better every day," he added.
"I have always scored nice goals but I know I needed to score easier ones — being in the right place at the right time — striker-type finishes.
"Ruud has been teaching me how to get into those positions more and, being a Manchester United fan, I know he is the master of that."