VACANCY@EAGLE EYE NewsMedia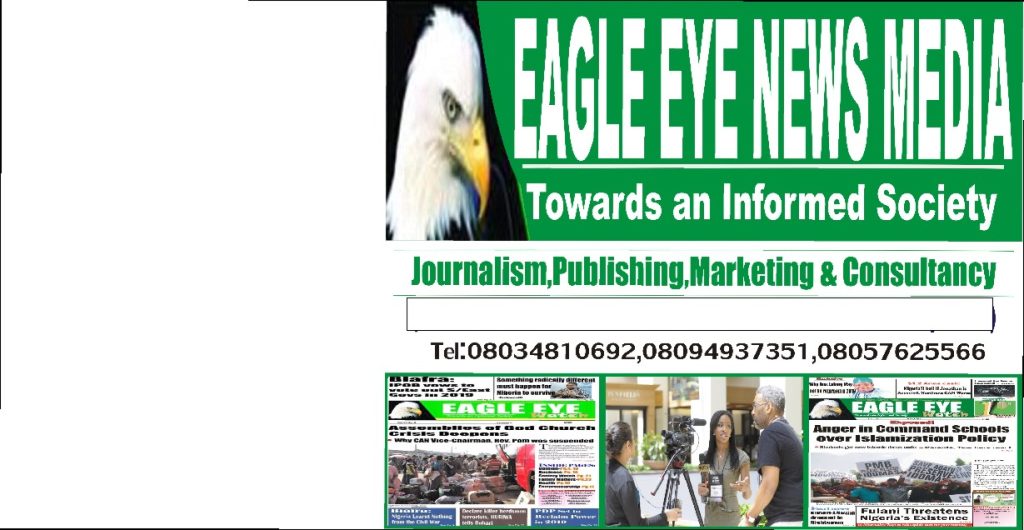 EAGLE EYE NEWS MEDIA-Publishers of Eagle Eye Watch Newspaper/Eagle Eye Classic Magazine,Sports Review and Eagle Eye Watch News-Online.
Eagle Eye NewsMedia is an emerging News media with the vision of expanding beyond its present structure.
Anyone, regardless of tribe,religion or sex can be part of the Eagle Eye News Media vision. If you have an interest in print,broadcast journalism, television or film production, send your application to the Eagle Eye NewsMedia offices to be part of this great vision.
The following vacant positions exists:
Executive Producer/ News Producers
Sports Presenter:A sports editor/reporter who knows global sport and has big ideas about providing viewers/readers with engaging, dynamic coverage.
Correspondents/Reporters:Must be versatile with enormous passion for field assignments.Eligible applicants must have at most a minimum of two years work experience in similar job position.
Video/Still Camera Operators(ENG): Key duties: To gather news stories on location, possibly perform simple edits on location…
News Anchor: Key duties: Anchoring bulletins – ensuring continuity of quality, accuracy and original thinking…
Graphics Artist / ICT
Key duties: Design and prepare graphics for live and recorded TV news programming.
Qualifications:
All applicants must have the necessary educational qualification/experience in the various positions applied for.
Personal Qualities
· Hard working.
· ICT knowledge and proficiency required.
· Able to challenge the status quo and drive through changes.
· Diligent with strong attention to detail.
Application Instructions
Interested candidates should submit the following documents to eagleeyewatchpublication@gmail.com. Or eagleeyenews24@gmail.com/or whatsapp Number:09033227058
· Copies of credentials :(Qualifying certificates obtained from schools and institutions attended (from S.S.C.E to Higher Institution(s) and any Certifications from professional bodies if any; NYSC Certificate or Certificate of Exemption; Birth Certificate; Scanned recent passport photo).
Eligible candidates applying for these positions(Correspondents,Reporters) must be resident in or able to live and work in Lagos State,Plateau State,Bauchi State and Abuja at their own cost.
Closing date: May 31st, 2022
Only qualified candidates will be shortlisted and contacted.