Intl Women's Day: Manchester United FC launched new campaign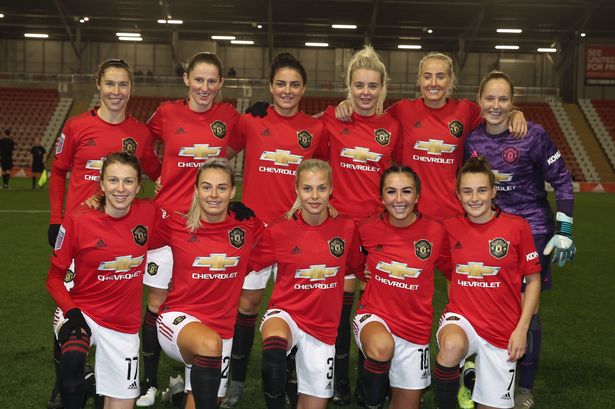 By Our Sports Desk/Rishi Jain
To mark International Women's Day 2021, Manchester United has launched its own Choose To Challenge campaign, which supports a wider message to call out gender bias and inequality in the hope of creating a more inclusive world for all.
As part of All Red All Equal, the club's overarching equality, diversity and inclusion campaign, today saw the launch of a video featuring players from Manchester United Women, talking about their own experiences, obstacles in life and how they choose to challenge every day.

Players share their own advice for viewers in how they can challenge in the fight against discrimination and inequality.
Reds goalkeeper Mary Earps is among those taking part, telling us:
"I love being a role model. I feel like that's one of my main focuses and purposes in life is to leave a legacy of some kind and I really want to help and inspire anybody or the next generation in any way I can."


Dutch midfielder Jackie Groenen adds:
"Equality for me is really being able to set a goal for yourself and not being stopped for no reason."


Meanwhile, forward Alessia Russo declares:
"I think being a role model for me means to just help the girls coming through to know that they can have a future in women's football and give them an opportunity to play for the teams that they dream about."
Later this week, the club will be running a number of events for its employees and partners, providing an opportunity for employees to celebrate International Women's Day, learn more about this important topic and how they can contribute to a more inclusive world as part of their everyday roles. They'll hear from speakers across the club, including Manchester United Women's head coach Casey Stoney.

Supporters can also get involved and are invited to use our online form to share inspirational stories, quotes and motivation that has seen you challenge inequality, call out bias, question stereotypes, and help forge a more inclusive world.By sharing your words you will also stand the chance to have these featured in our women's team dressing room before the West Ham game on Sunday 28 March, plus all fans who submit a quote will be entered into a ballot to win a 2020/21 home shirt signed by Casey and her players.