Nigerian-born Shola Shoretire makes Man United history in Europa League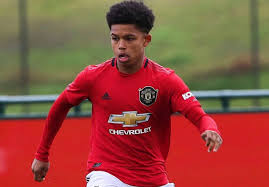 By Our Editor
Manchester United teenager Shola Shoretire etched his name in Man United history books on Thursday night, becoming the club's youngest ever player in a European League match against Spanish club Real Sociedad.
The teenager replaced another academy graduate, Mason Greenwood in the 76th minute to earn the title, aged 17 years and 23 days.
The previous record-holder was Norman Whiteside, who was 108 days older than Shoretire when he played in a 0-0 home draw against Valencia in the UEFA Cup on 15 September 1982.
The youngster was elated to have made his mark, and he took to his social media to celebrate his achievement.
Speaking after the match, coach Ole Gunnar Solskjaer praised the Nigerian-born.
"Shola's got some skills, attributes that we think are going to make him a very good player here," Solskjaer said after the game:
"It's a platform of course tonight – just 15 minutes – so it's something to build on, something for him to remember at Old Trafford. If the fans had been here, he would have enjoyed it more because they give you so much more energy. Football is strange at the moment, it is different, but I'm sure all the fans will see him later on."
Shoretire was born in Nigeria on 2 February 2004, but he was raised in Newcastle.
Growing up in Newcastle, he played for esteemed Wallsend Boys Club.
United were quick to recognise his talents, snapping him up before he clocked 10.