Insecurity: Ondo Gov.Akeredolu Condemns Gov.Bala Mohammed For supporting killer Herdsmen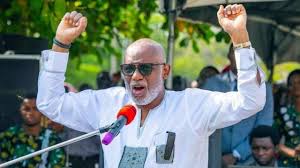 By Our Editor


Governor Rotimi Akeredolu of Ondo State,South-West,Nigeria has berated his Bauchi counterpart Bala Mohammed over his statement that herdsmen have no option but to carry AK-47 for self-defense.
Mohammed had on February 12 defended the herdsmen who bear arms, claiming they are being attacked and killed by cattle rustlers.
He also condemned South West, South-East Governors, and also Governor Samuel Ortom of Benue State over the manner in which they are handling farmer-herder clashes.
But speaking during an interview on Channels Television's Politics Today on Monday monitored by EAGLE EYE WATCH , Akeredolu bemoaned the Bauchi State Governor for defending herdsmen who carry arms and kill innocent Nigerians.
"How will a governor in this country today come out and say people should be allowed to carry arms when it is illegal? And not just arms he says they should carry double barrel and co. So people are not licenced to carry guns, Bala Mohammed is suggesting to us that they should be able to carry it,for what purpose?So I should also tell my own people to carry guns," he lamented.
"For what purpose? Bala Mohammed has even poured more petrol into the fire because his speech is unexpected of him. It will become very serious and nobody will be spared. So statements like that must be condemned and I condemn it.
" Certainly Bala Mohammed has not spoken like a statesman. He probably lost everything out, he lost out as to what his reaction should be," he added.
Akeredolu explained that as Ondo governor, he is worried by the deteriorating level of insecurity in the country, especially the recent killing of three prominent Ondo indigenes by herdsmen.
He said that the insecurity issue is not an ethnic war, calling for collaboration to ensure that the challenges are tackled head-on.
He also chided the umbrella body of the herdsmen Miyetty Allah for not helping to identify the killer herdsmen amongst them.
Responding to the issue of President Muhammadu Buhari's perceived silence, Akeredolu said that the president should come out and let Nigerians know his position that he doesn't support criminality as he has always declared.
"What all of us expect from this president is for him to come out and let Nigerians know that he does not support criminality.I recall when Mr. President said that if the security agencies find any one in possession of unlicensed arms he or she should be prosecuted".
Akeredolu further called on the security agencies to work tirelessly more than ever so as to curb the unabated killings.