CAF Champions League: Gov.Lalong bows to pressure,lauds Plateau Utd over Simba match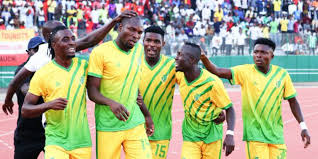 By Our Sports Desk
Governor Simon Lalong of Plateau State, has finally bowed to pressure from football faithfuls over his inability to boost the fortunes of Plateau United despite victories in the Nigerian Professional Football League.
Gov.Lalong visited the team during their training session at the Zaria Road Stadium in Jos in a bid to boost the morale of the players .
He expressed optimism that Plateau United FC will be crowned CAF Champions in the 2020/2021 season.
The governor made this known on Wednesday, during his visit to the team during their training session at the Zaria Road Stadium in Jos.
The Tin City boys from Plateau will be playing host to Simba FC football club of Tanzania in Jos, on Sunday, 29 November, 2020.
While addressing the players and technical team, Governor Lalong said he was at the stadium to ascertain their level of preparations and also encourage them to put in their best for a victory come sunday.
"I am here first of all to congratulate you for winning the Nigerian Premier League for the second time which qualifies you to represent Nigeria at the CAF champions League. I have no doubt that you will bring home the trophy having learnt from the mistakes of the past and made serious improvements" he said.
Lalong said the team has all it takes to win the match on Sunday and eventually go ahead to win the tournament. He promised that the State Government will provide all moral and logistics support to the team to ensure they are motivated to perform well.
Reacting to this development,Gaius Ishaku a die hard football enthusiast criticized the governor for neglecting the team despite their victories in the Nigerian Professional League and the failure of the state government to redeem its promise to Plateau United after they won the league in 2017.
In his words:"Its dishearten to hear that Governor Simon Lalong visited the team today.Journalist, Iam sad about this development because the governor has failed to redeem his promise to the team when they won the NPFL in 2017″.
He also berated the state government for not improving the Zaria road Stadium in Jos despite the feat of the Tin City Boys in the just concluded football season were they thrilled soccer fans with their scintillating display.
Similarly,Obi Madu a football fan advised the governor not to attend the match on Sunday,according to him, "the last time governor Lalong attended Plateau United match the game ended goalless against Akwa United last January in Jos after strings of victories".
Recall that Plateau United also won the 2017 Nigerian League title when they finished the season with 66 points-19 wins, nine draws, 10 losses, scored 49 goals and conceded 25.