Don't give up, GCMHE urges #EndSARS Protesters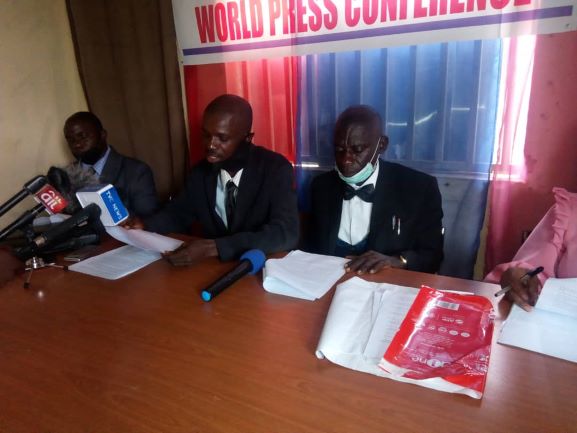 By Gloria Uwadirioha
Following the unleashing of armed soldiers on the peaceful EndSARS protesters, the Global Center for Media and Human Empowerment(GCMGE) has told the demonstrators not to be deterred by efforts by governments to halt the protests using thuggery and military intimidation.
GCMHE's Acting Director-General, Charles Ejoh, stated yesterday that the protest was not only against the police and bad governance but also to free Nigerians from captivity and Fulani marginalisation.
"As this struggle to free Nigerians from bondage and Fulani subjugation gets to its crucial stage, GCMHE led by Charles Ejoh urges the #EndSARS protesters not to give up,"
The group called on all revolutionists to organise themselves together in order to liberate the impoverished youths and deliver Nigeria from the clutches of authoritarianism and dictatorship orchestrated by the Muhammadu Buhari led APC government in Nigeria.
It urges the #EndSARS protesters not to give up," he said.
Meanwhile,the Socio- Economic Rights Accountability Project(SERAP), in a petition sent to Mrs Fatou Bensouda, ICC Prosecutor, yesterday, urged the court to "promptly investigate reports that Nigerian authorities, military, and some politicians have used and are using thugs, soldiers and security agents to intimidate, harass, attack and kill #EndSARS peaceful protesters in several parts of Nigeria, including Abuja, Lagos, Edo, Osun, Plateau, and Kano states."
SERAP has also urged Mrs Bensouda to "push for those suspected to be responsible for these crimes, mostly security officials, soldiers, some politicians and other actors who directly or indirectly have individually and/or collectively contributed to the attacks, deaths and injuries, and are therefore complicit in the crimes, to be tried by the ICC."
The group, among other demands, urged the ICC to urgently commence an investigation proprio motu on the widespread and systematic problem of attacks on protesters, with a view to determining whether these amount to violence against the Nigerian people and crime against humanity within the Court's jurisdiction. "In this respect, we also urge you to invite representatives of the Nigerian government (and) the military to provide written or oral testimony at the seat of the Court, so that the Prosecutor is able to conclude since available information whether there is a reasonable basis for an investigation, and to submit a request to the Pre-Trial Chamber for authorisation of an investigation."information whether there is a reasonable basis for an investigation, and to submit a request to the Pre-Trial Chamber for authorisation of an investigation."