NFF appoints Eguavoen Technical Director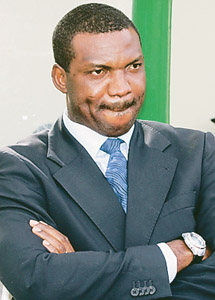 By Edward Etuka
Former Super Eagles' handler, Austin Eguavoen, has been appointed as Technical Director of the Nigeria Football Federation.
This was contained in a communique issued after the Executive Committee meeting held via video conference on Tuesday.
According to the communique: "The Committee approved a presentation by the Chairman of the Technical & Development Committee for the appointment of former Super Eagles' Captain and Coach, Mr. Augustine Eguavoen, as the new Technical Director of the NFF.
"He will work with the following persons, whose appointments were also approved: Mr. Paul Aigbogun (Deputy Director, Technical & Scouting); Terry Babatunde Eguaoje (Consultant on Coaching & Development); Abdulrafiu Yusuf (Assistant Director, Coaching & Development); Siji Lagunju (Assistant Director, Training & Development) and; Garba Lawal (Chief Technical Officer)."
The appointments are with immediate effect.
The Committee has also endorsed a proposal by the League Management Company to fix the calendar for the 2020/2021 Nigeria Professional Football League to commence anytime from November 15, 2020 and end the season by June 2021, with full adherence to the Federal Government's COVID19 protocols and other requirements as may be prescribed.
The Executive Committee further mandated the NNL, NWFL and NLO to synchronise their calendars with that of the NPFL with each of them commencing within three weeks of the elite League.
However, the Executive Committee made it clear that in line with the Federal Government's directive, all football activities can commence immediately.