IPOB: President Buhari's shoot on sight order "is only a paper tiger"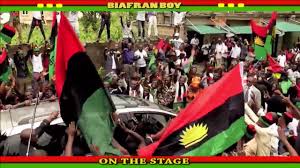 By Our Editor

The Indigenous People of Biafra (IPOB) has expressed surprise over the increase of banditry in the country, alleging that the trend has become a gold mine for some leaders.
In a statement yesterday by its media and publicity secretary, Emma Powerful, IPOB stated that banditry has become another oil well for greedy, unpatriotic, and evil-minded leaders and warned those involved in the act to desist.
"Banditry and kidnapping will remain a lucrative business for as long as Government and self-acclaimed religious clerics keep negotiating with them and anyone advocating amnesty for bandits is their grandmaster. If Nigeria were to be a normal country, all those championing for amnesty for bandits would have been arrested and put on trial".
They alleged that the shoot on sight order by the President "is only a paper tiger", and not meant for everybody. "If a serving Governor can boldly come out to defend the carrying of guns by Fulani herdsmen, how do you ever think any of them is going to be arrested?"
"Any day Nigerians demand to know why they have a President who chooses to talk to them through press statements written by media aides instead of talking to them live, there will be a change. Any day Nigerians begin to ask why the authorities have not been courageous enough to declare killer herdsmen terrorists but quick to proscribe IPOB that is peacefully agitating for freedom, you will begin to see changes. Banditry will stop the day your leaders stop pampering bandits and start treating them as the terrorists they are. Banditry will stop the day the real bandits in places of authority are unmasked."