Edo Govt. fixes Feb.1 for schools resumption as anxiety grips school proprietors in Jos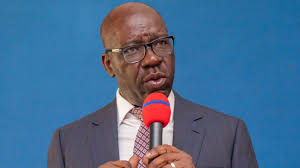 By Our Education Desk
Edo State Government has fixed a tentative date of February 1, 2021 for the reopening of schools in the state with relevant key players going round the schools to ensure that the necessary items needed to curtail the spread of the Covid-19 disease are put in place.
Governor Godwin Obaseki who made this known at a media briefing in Benin City also listed a number of measures being introduced by the State Government to ensure that the pandemic is kept in check.
Since the second wave of the coronavirus pandemic hit the country, there have been calls by Government at all levels for all to observe the COVID-19 safety protocols, intended to check the spread of the pandemic.
Edo State Government on its part is doing all it can to ensure that the state is virus free with the help of residents.
Governor Godwin Obaseki gave a rundown of some of the steps to be adopted forthwith
Deputy Governor Philip Shaibu speaks on the state transportation sector and what is required of stakeholders at this time.
The Governor went on to announce a new resumption date for schools in the state
Obaseki who noted the seriousness of the second wave harped on the importance of adhering strictly to laid down safety rules and guidelines.
Meanwhile there is apprehension in Jos over possible shift in the resumption of schools in Plateau State as a result of the rise of Covid 19 infections in the state.
Speaking exclusively to EAGLE EYE WATCH in Jos,a school proprietor who do not want his name in print shared his fears to our reporter that with the way things are going the government of Plateau State may have a re-think over the possible resumption of schools in the state in order to curb the spread of the deadly virus.
'I have my fears over the possible postponement of resumption of schools in the state due to the unprecedented rise of the deadly Covid19 pandemic and with the poor management of the virus in the state, it is only God that will see us through".
Recall that the Plateau State Government recently disclosed that the official date for resumption date of academic activities in the state for both public, private primary and secondary schools is on Monday 18th January, 2021