Lawal: I don't see passion in this Super Eagles team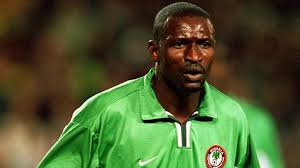 Former Nigerian international Garba Lawal says he doesn't see any passion or fight in the current Super Eagles team.
Nigeria played two matches in the recent international break, losing 1-0 to Africa Cup of Nations champions Algeria on October 9 before playing out a 1-1 draw with Tunisia four days later. Both fixtures were played in Austria.
The Super Eagles will need to up their game for an AFCON qualification double-header against Sierra Leone next month.
Lawal, who accumulated over 50 caps for Nigeria and represented his country at the Olympics (winning gold at Atlanta 1996), World Cup and AFCON tournaments, insists that the current generation doesn't have the fire of his Super Eagles teams in the 1990s and early 2000s.
"During my time, we played as a team. You know we have players who you can call any time and they will deliver," Lawal is quoted by the Daily Trust.
"So you can see zeal in them, they fight like lions, but I don't see these [sic] in the current players.
"I don't know why this generation is different. It is only they that can tell us what the problem is. When I watch them play I don't see that passion in them."
Lawal, however, defended the decision of manager Gernot Rohr to call up several new faces to the recent squad, insisting that having depth is important.
"Rohr can call up anybody he wants to call. We can't question him. That's what he is being paid for. The old players will give way sooner or later," explained the 46-year-old.
"When you have plan 'B' in football, it's always good. He is the manager and the only one that can assess them for the team."